WHAT WE KNOW...
The mission has not changed, and never will. Jesus is still calling Bethel Community Church to Love and Lead well in our community and around the world. We remember the command of Jesus to make disciples. How are we to do this?
First, let us elevate Jesus and put others before ourselves. At Bethel we say often, It's not about me – It's about Jesus; It's not about me – It's about others. The most important decision we make will be to elevate Jesus and love others. Remember, the church is not a building or an in-person gathering where you come; but it is the community of believers that you unite with under the banner of Jesus.
RE:SET
We believe God has hit the reset button, and is giving us an opportunity as His people to find a new normal. This does not mean we find a new mission, but simply have an opportunity to find new ways to accomplish the same mission that was given thousands of years ago by Jesus. Through much prayer and consideration of what the future could look like here at Bethel we have developed a 4 phase RE:OPENING plan as we seek to find the new normal that we believe God is calling us to.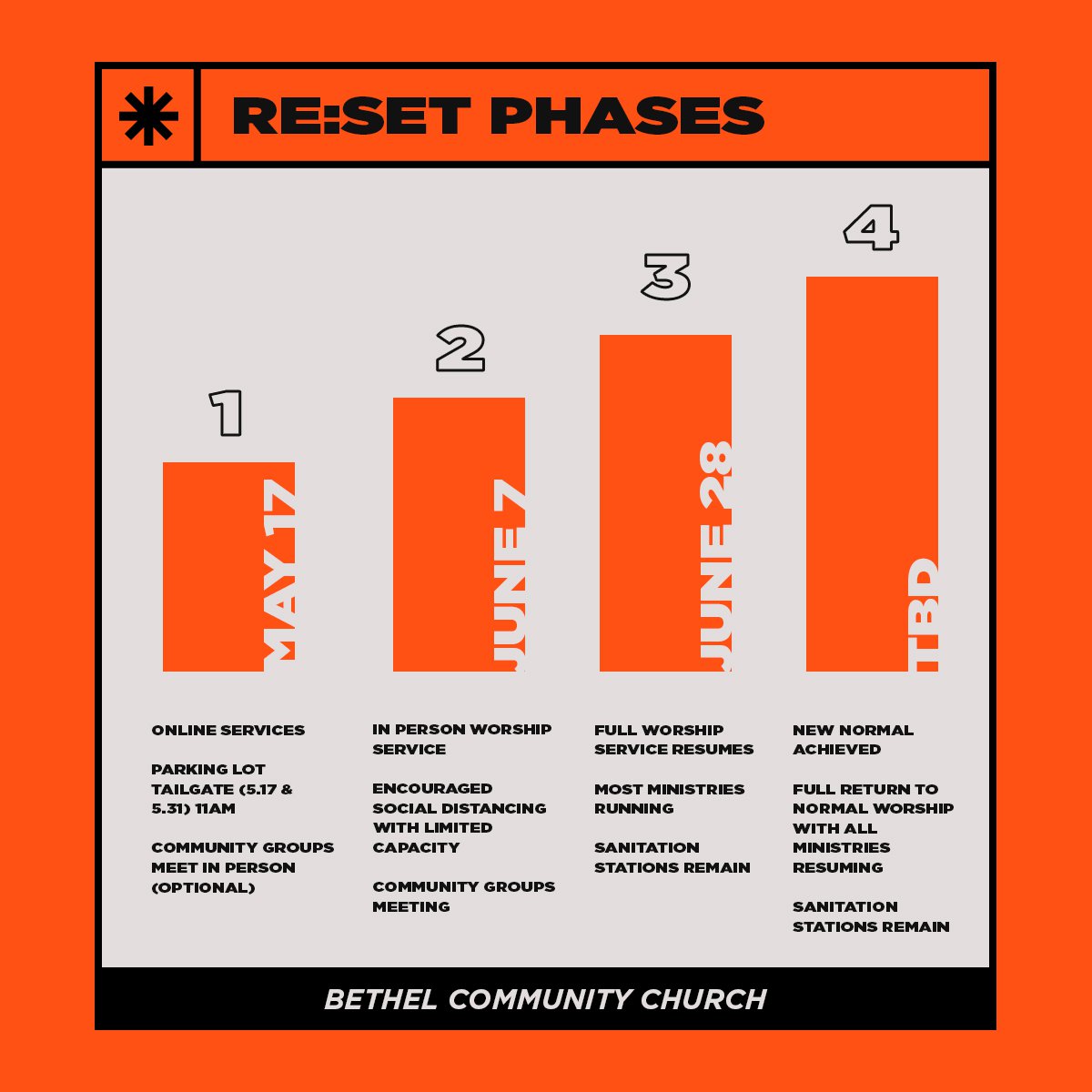 Phase 1: Starts May 17th
Community Groups open to meet in person if desired
Parking Lot Hangout - May 17th @ 11am
Drive Through Ice Cream Sandwiches
Celebrate Logan & Kelsey
Parking Lot Tailgate - May 31st @ 11am
BYOF (bring your own food)
Bring lawn chairs for your family
Bring your truck if you have one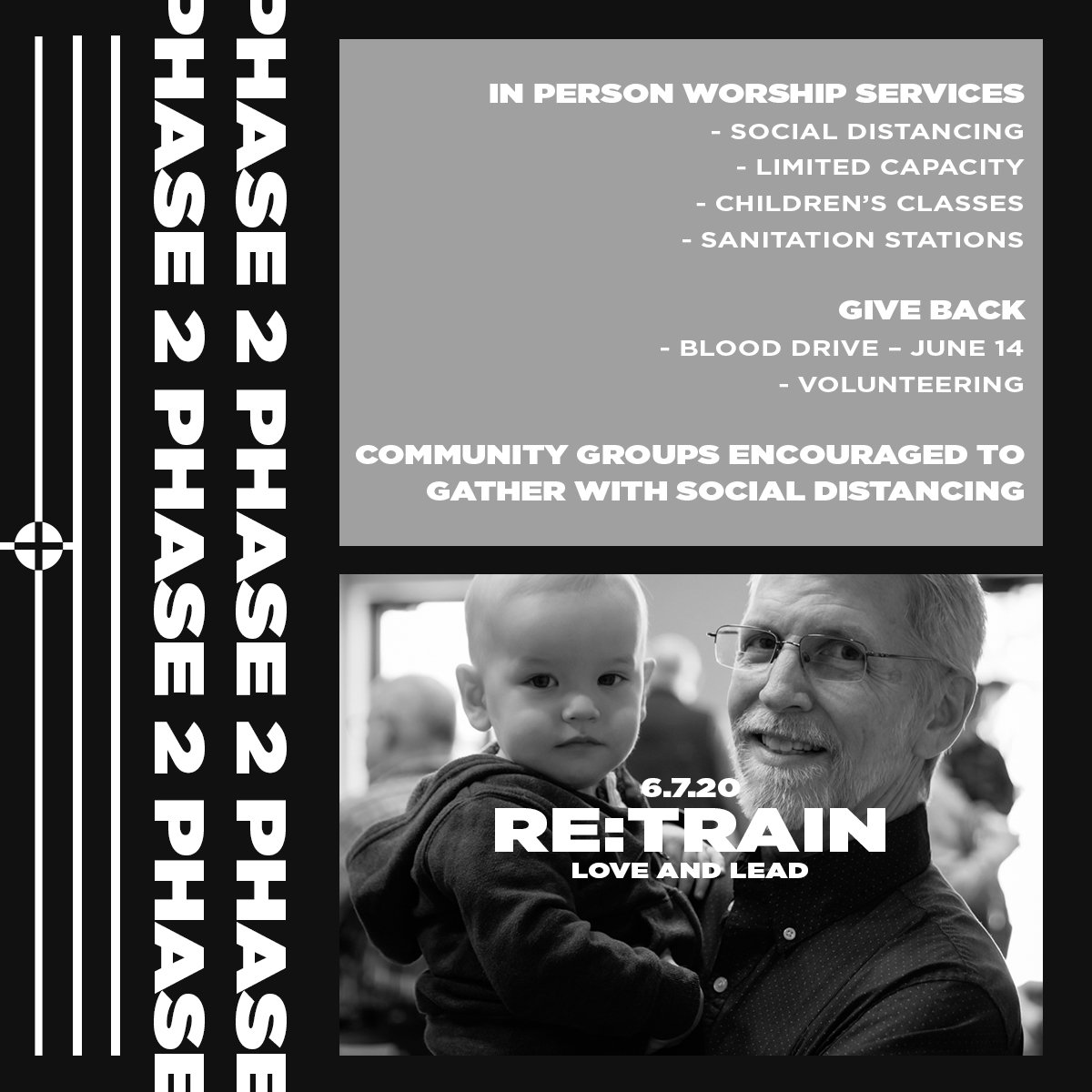 Phase 2: Starts June 7th
Community Groups encouraged to meet in person if desired
Parks, Homes, Etc...
Practice social distancing
In Person Worship Services Resume - June 7th @ 9:30am & 11am
Limited Capacity
Bethel Kids open
Sanitation stations
No food or drink served
Practice social distancing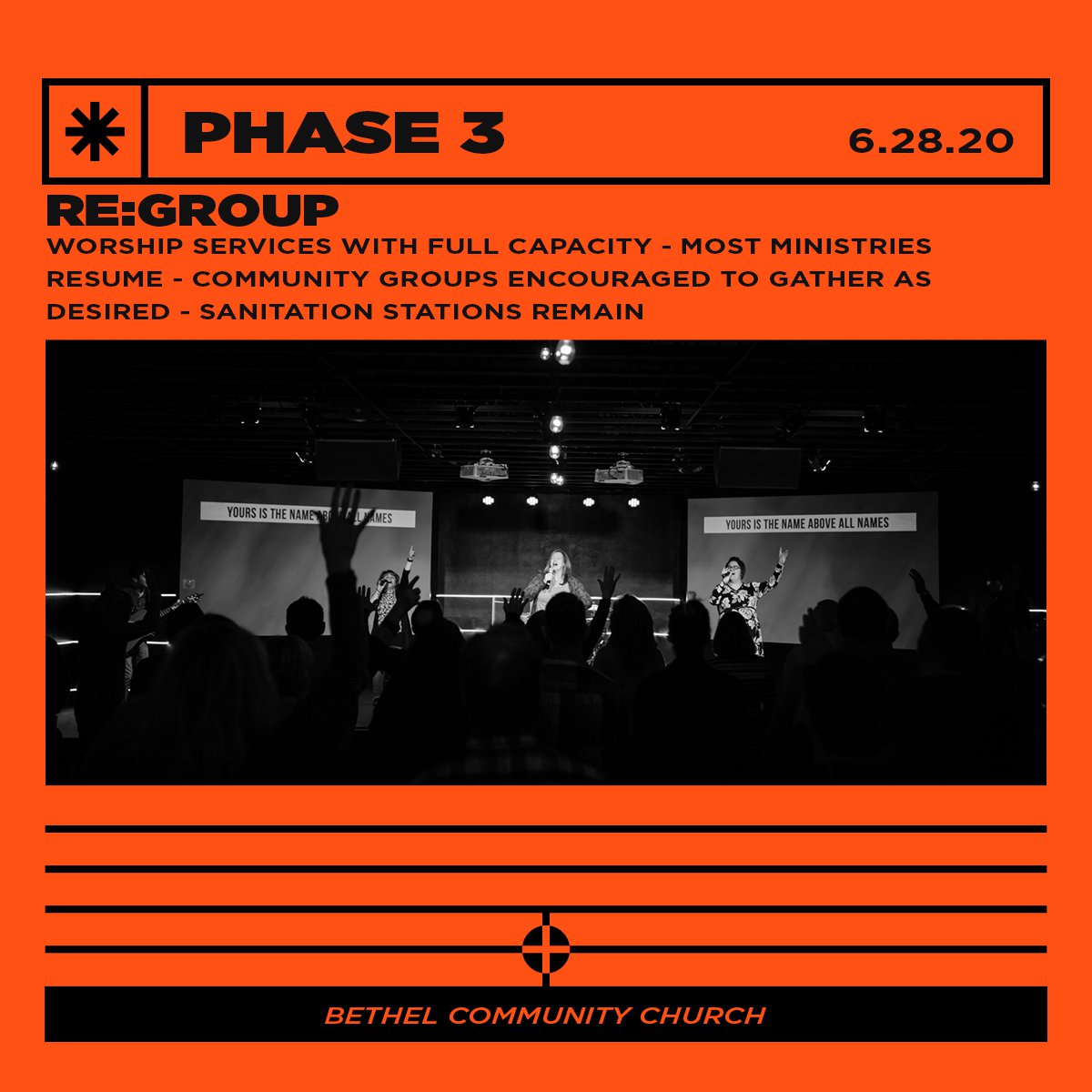 Phase 3: Starts June 28th
Worship Services resume at full capacity
Most ministries resume
Community Groups encouraged to gather as desired
Sanitation stations remain in place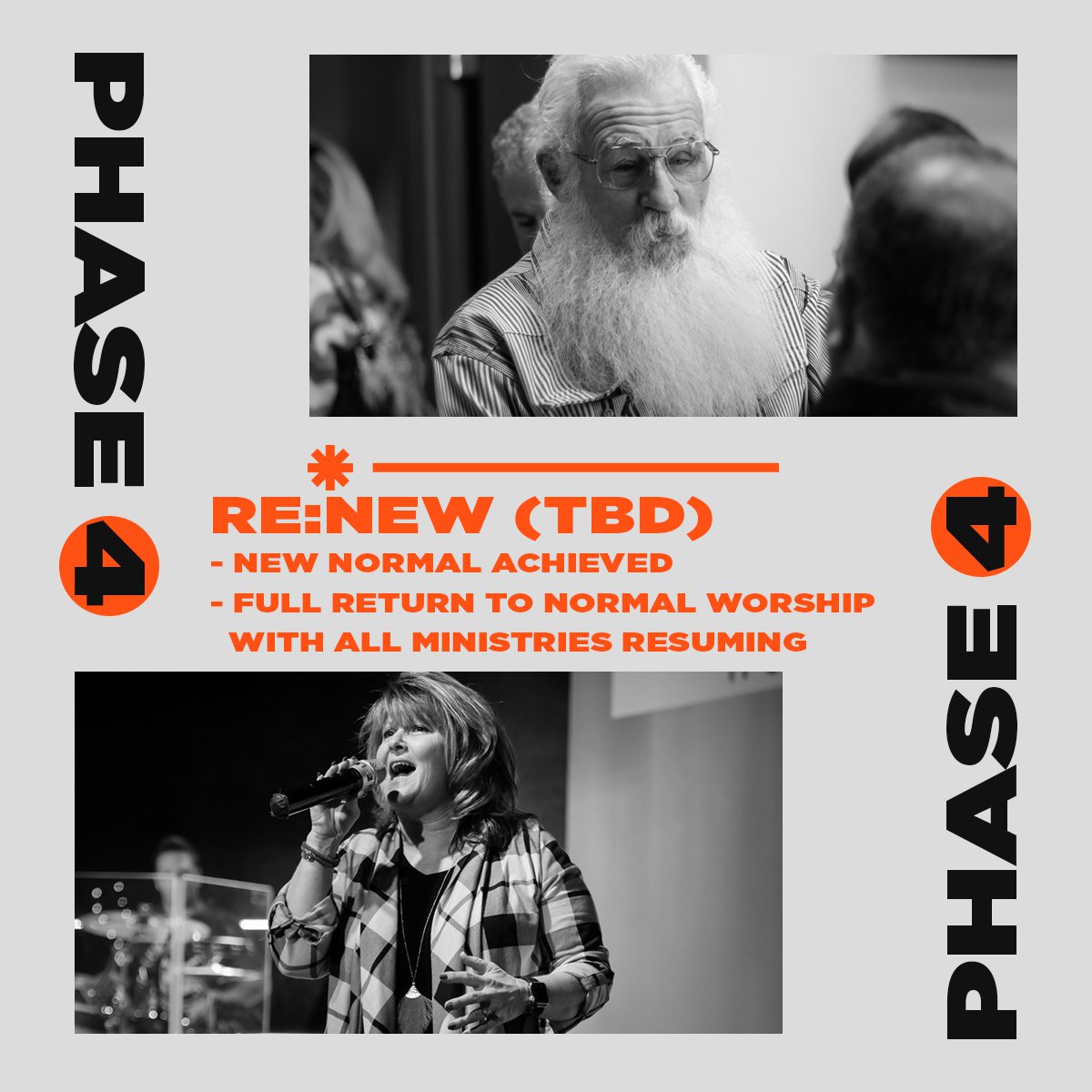 Phase 4: TBD
New Normal is achieved
Full Worship Services Continue
All ministries resume
NEED HELP? CAN YOU HELP?
We understand that the impact of COVID-19 will be long lasting. There will be many people on our community and people who call Bethel home that will continue to need help. Our desire is to love and lead our community well, and you can be a part of the solution. Here are several ways you can continue to partner with us...
Partner with us financially so we can continue to meet the needs of our community and carry out the mission of Jesus.
If you are sick, love others well by staying home. (please let us know so we can pray, for you and provide assistance if needed)
If you need help or know of someone who does, let us know by filling out the "I NEED HELP" form below.
Love those around you by being a peaceful presence in the community and demonstrating faith in Jesus.
Stay connected to your community group as this will be one of the main ways we love and care for one another by providing prayer and support for those in need. If you are not a part of a community group, you can sign up to join one below.